There are hundreds of new products launched everyday. Probably thousands. Most won't find substantial growth, let alone gain traction right out of the gate.
We knew this initial hurdle of early traction was a doozy.
Luckily, Ryan Hoover over at Product Hunt stepped in. Like a shepherd showing us the way.
Ryan got early word of WhiteAlbum, liked the idea, and offered to feature us as an Exclusive Hunt on Product Hunt (for those that don't know, Product Hunt features startups and new ideas that are voted up by the community, with a daily audience of about 90,000).
Obviously, this was a great opportunity.
Being a fan of the site, we knew how the system worked. A featured spot was a definite push into the limelight, but there was work to be done in order to stay there.
Work to be done: 18 hour day
WhiteAlbum went up at about 6:30am. That's when we started our marketing outreach — and didn't stop for the next 18 hours.
We went on a tweeting spree. Tweeting at people, at blogs, websites, even celebrities. Retweeting whenever we could from multiple accounts. The outreach efforts also extended to emailing, texting, Facebooking, and Instagramming.
We even tipped off people the day before to get them ready for the push.
At the end of those 18 hours, WhiteAlbum found its way into dozens of articles on websites like PetaPixel and TechCrunch. Even more over the next few days.
We picked up 4000 users in the first 2 days.
That number is still growing. Leading to tens of thousands of photos being snapped, albums being printed and shipped, and people fully embracing the surprise and delight of anticipation.
Come for the idea, stay for the quality
We think people are initially attracted to the concept behind WhiteAlbum because of its similarities to a disposable camera. Not knowing how your photos will turn out, delayed gratification, and taking photos that you know will be printed without seeing them first.
But that's where the differences end.
WhiteAlbum is like a disposable camera, just much, much better.
We wanted to build a product that focused on quality. We spent months finding the perfect paper and the right printing partner. We spent months sourcing the best packaging company to create our custom box.
We knew people were going to like the concept — and they'll love the quality.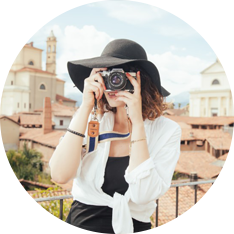 We were lucky enough to get over that initial hurdle of early traction thanks Ryan and the Product Hunt crew.
Now that we're off on the right foot we can get beautifully printed photos in the hands of a lot more happy folks.